Our Mission
To increase awareness on the issues that affect individuals with epilepsy and raise funds in support of clinical and research efforts on the diagnosis of epilepsy and its treatment including, but not limited to, diets, surgery, and anticonvulsant medications.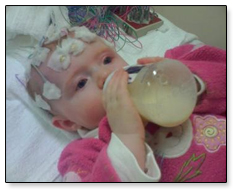 Carson's Story
In January of 2007, we took our 5-month old daughter, Carson, to Johns Hopkins Hospital because she was having what appeared to be seizures. Twelve hours, a spinal tap and an EEG scan of her brain later we were told that she has a rare form of Epilepsy called "Infantile Spasms". READ MORE
Order your copy of the new
5th Edition of "Ketogenic Diets" now!
Carsonís story can be found in Chapter 24.