Accomplishments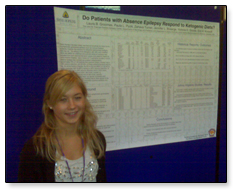 Support for Adrianna Amari's study of food preferences pre-diet and later correlation with diet efficacy (ongoing).
Support for Laura Groomes (college student) study of dietary therapies for absence epilepsy.
Salary support for Mackenzie Cervenka MD and Bobbie Henry RD to run the adult epilepsy diet center at Johns Hopkins.
Salary support for Alison Plowman (research data entry).
Support for Amisha Patel's study on the long-term effects of the diet years after its discontinuation.
Financial support for other global foundations / conferences.
Series of webinars on the latest advances in the field of dietary therapy for seizure control.
See the Medical Journal Page for all of the papers / studies that the Carson Harris Foundation supported, inspired or involved Carson as a participant in the research.